I have been making Gingerbread houses with my kids for years. I would spend $50 on frosting, graham crackers, gumdrops, licorice, peppermint candy, ugh the list went on and on. I saved milk cartons from luch and splashed myself as I spent an entire planning period washing those cartons. Then I would need a literal army of volunteers, and a gallon of frosting to get the graham crackers to actually stick to the cartons. One year, I even tried to use a glue gun to make the graham crackers stick! Then as a final insult, I'd have to figure out how to get all my little darlings on a bus without dropping, tipping, destroying their creation, or covering their coats with frosting.


This is what I dreamed they would make…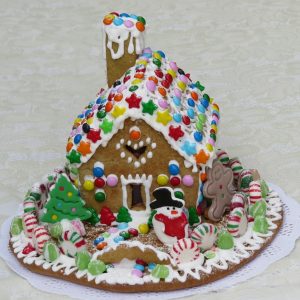 This was what they actually made…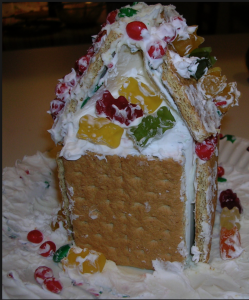 Enough! One of my favorite saying is… if you're not having fun change something. Well, I wasn't having any fun. To be honest, my kids just loved getting their sticky little hands on the candy.

So I changed everything. Guess what? We are all having fun. Now I spend $1 on brown paper pages and I pick up a bag of lollipops. I mean, you have to eat candy while making a gingerbread house.
This year we will be making gingerbread houses, but we'll be using crayons, markers, and colored pencils. We'll have scissors and glue and it will get messy, but the difference is – it's just paper. No need to have a mountain of Lysol wipes to scrub the hardened frosting off the table and floor. And, they look great!
I print out plenty of extra kits, and I let the kid's creativity develop. I put on some holiday music and the kids all move about the room as they create their gingerbread master pieces. I actually get to walk around and chat as they create. Isn't that what we wanted in the first place? My kids take something home they are proud of and I actually leave school on time. If you haven't made gingerbread houses with frosting and graham crackers, you really should try it. But please remember to wear an apron, and have lots of extra cleaning supplies. But if you are like me, You might like to try a paper bag gingerbread house instead
Check out some of my fun Gingerbread Resource